CATALOGO
« Indietro
Boilies Bloody Angel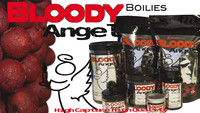 BLOODY ANGEL
Come si evince dalla descrizione precedente, Bloody Angel e' in stretta sinergia con Bloody Mary, differenziandosi da questa per l'assenza della particolare miscela speziata. Questa mancanza, se cosi' puo' essere definita, e' stata compensata aggiungendo una maggior quantita' di attrattori liquidi come il Liver Liquid, Robin Red Liquid, ma soprattutto Emoglobina Liquida un emoderivato, in particolare una proteina del sangue, ricchissima di ferro dalle incredibili proprieta' nutrizionali ed attrattive, che E'  NOSTRO VANTO AVER INTRODOTTO PER LA PRIMA VOLTA SUL MERCATO, superandoci ancora una volta!!! Anche quest'esca, che non contiene aroma, cela un mistero essendo ricca di un complesso aminoacidico "ancora sconosciuto" , in grado di risvegliare nella carpa un istinto ancestrale a cibarsi, del quale per ora non vogliamo svelare la formula , ma che sta' regalando ai nostri collaboratori innumerevoli soddisfazioni in patria e soprattutto nelle piu' difficili acque d'oltrAlpe!!! Anche Bloody Angel non ha limiti di utilizzo...
Composizione:
Liver Extract, Emoglobina di suino idrolizzata, Uovo e suoi derivati, Latte e suoi derivati, Lievito in polvere, Farina di Cereali, Farina di Riso, Soia Tostata Micronizzata, Polvere di Pepe Nero, Farina di Frutta, Rock Salt, Conservante, Emulsionante, Aminoacidi, Aromi e coloranti alimentari.
English Composition:
Liver Extract, Hydrolyzed Hemoglobin pork, egg and dairy products, milk and dairy products, Baking powder, Flour, Cereal, Rice Flour, Toasted Soy Micronized, Black Pepper Powder, Fruit Flour, Rock Salt, Preservatives, Emulsifiers, amino acids, flavorings and food coloring.
France Composition,:
Extrait de foie, hydrolysée hémoglobine porc, les oeufs et les produits laitiers, le lait et les produits laitiers, de la poudre de cuisson, farine, céréales, farine de riz, de soja grillé micronisée, poudre de poivre noir, Fruit farine, le sel gemme, conservateurs, émulsifiants, acides aminés, des arômes et des colorants alimentaires.
Valori Nutrizionali- Nutritional values - Valeurs nutritionnelles
Protéines - Protein -Proteine 20,68%
Carboidrati-Glucides-Carbohydrates 53,65%-
Grassi-Fats-Lipides 8,67%
Ceneri-Ash-Cendres, 1,57%
Fibbre-Fibers-Fibres 2,73%
Umidità-Humidity-Humidité 8,74%
Codice Boilies affondanti                           Euro
blod 1 10 Boilies Bloody Angel 10mm 500gr € 10,90
blod 1 15 Boilies Bloody Angel 15mm 1kg    € 14,90
blod 1 20 Boilies Bloody Angel 20mm 1kg         € 14,90
blod 5 15 Boilies Bloody Angel 15mm 5kg         € 65,00
blod 5 20 Boilies Bloody Angel       20mm 5kg         € 65,00
Codice      
Hook Bait
Euro
blod 15       Boilies Bloody Angel    15mm        400gr        € 9,90
blod 20       Boilies Bloody Angel    20mm        400gr        € 9,90
blod 24       Boilies Bloody Angel    24mm        400gr        € 9,90
blod 08 15  Boilies Bloody Angel    15mm        800gr        € 14,90
blod 08 20  Boilies Bloody Angel    20mm        800gr        € 14,90
Codice       
Pop up
                                                          Euro
blod p 20   Pop up Bloody Angel    20mm       50gr         € 7,50
blod pp 15 Pop up Bloody Angel    15mm       20gr         € 4,50
blod pp 10 Pop up Bloody Angel    10mm       20gr         € 7,00
Codice         Assetto Neutro                                         Euro
blod a 15     Boilies Bloody Angel    20mm       50gr         € 6,90
Codice         
Dip
                                                                 Euro
blod d 15      Dip Bloody Angel        120ml                        € 9,90
Guarda il video